PlayStation® Comes Home for the Holidays

PlayStation® Home, years in the making, finally entered Open Beta today for all PlayStation 3 owners. For anyone connected to the internet on Tuesday, December 11, 2008, they were greeted with a new icon under their PlayStation® Network menu. PlayStation® Home was automatically downloaded to everyone's PlayStation 3, and the flood ensued as early as the servers would let them in. Millions of people flocked to their PlayStation 3's to be able to be one of the first to see the brand new Home that they'd been waiting over two years to finally see. Unfortunate for many, errors plagued the sign in process making it very difficult for most people to log on through the early hours of it's release. Luckily, by the end of the day, most diligent users were able to check it out for themselves. While there is a lot more to do in it than there was with the Closed Beta, it's still lacking some of the key features that they had shown off in past events.
If you were in the Closed Beta, the first thing you'll notice is the brand new renovated Central Plaza, which looks nothing like it used to. The Central Plaza is basically the center of the world. From here, you're given access to most of the main city areas, including the Mall, the Home Theatre, and the Bowling Alley. Within the Central Plaza is many places for sit and chat with your friends, the Listen@Home station, which features ten varied tracks from artists that no one's heard of, and a mini-game called Saucer Pop. Saucer Pop, while just a silly mini-game within PlayStation® Home as a whole, is still quite addiciting, and features you flying a miniature flying saucer and popping bubbles with stars in them to earn points.
The Mall now finally has items that you can purchase in it. Unfortunately, unlike a few other virtual worlds which offer both an in-game method of paying for things as well as a real life cash method (see: vSide), everything that you want to purchase, down to a shirt for your back, will cost you something, and give you nothing in return, except for a prettier looking virtual avatar. General clothes for your avatar will pretty much cost you about $0.49 for each piece, furniture for your apartment will cost you around $0.99 a piece, and a new personal space itself will run you about $4.99. Right now, there still isn't a whole ton of stuff for you to choose from, but with time, we should expect to see a full collection of items to stock the shelves.
The Home Theatre, not the one at your actual home, but the Theatre inside the city of Home, has not changed. Within the Closed Beta, it was used to show a behind the scenes video from SOCOM: Confrontation, which usually wasn't a packed house. Now it's being used to show the movie trailer for Twilight, followed by an exclusive music video for a song within the movie performed by Paramore. Sony has advertised the Theatre as a place to "watch game and movie trailers", but with the internet being a very easy place to access these things as well, it will be interesting to see what this spot can offer that people can't see anywhere else. If they can't come up with something unique to keep peoples' attention, then this will be one of the least used spots of the entire world.
Probably the most happening spot of the main area in Home is the Bowling Alley. Featuring five lanes with matches containing up to four people, the game of bowling is one of the most entertaining games in the area. It takes some skill, or at least some practice to get good at this, but when you are, it's entertaining to play. There are three steps to bowling. The first is the aim, which way you're throwing the ball. The second is speed, how fast you're rolling it. The third and final step is spin, which allows you to spin the ball either left or right, which can be the deciding factor with some of your shots. Bowling isn't the only thing you can do at the Alley though. Arcade machines line the two sides of the alleys, featuring Ice Breaker and Carriage Return which are unique games to the world, and an arcade version of the popular PlayStation® Network game echochrome. Not to disappoint people looking for a different challenge, pool tables are also lined across the back end of the room, allowing for two people to be able to play a game of Solids and Stripes. The Bowling Alley is definitely the area of Home that's meant to be the most interactive, and it's usually pretty packed because of it. None the less, everything in this room is well made, and brings peoples' interest.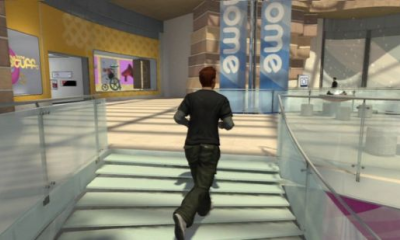 Outside of the main area of PlayStation® Home is the specific areas reserved for certain games. As time goes on, Sony plans on releasing more of these rooms for more games, but as of the opening of the Open Beta there were only areas for the games Uncharted: Drake's Fortune and Far Cry 2. These areas feature multiple rooms which are based around areas within the game itself, and are made with great detail. The Uncharted room features an outdoor seating section as well as an indoor one, a special arcade game only found within that area, and three doors, each with a door code that one has to decipher to be able to enter the special restricted room. Inside each of the restricted rooms is more lore and other game-related props, but other than that, there aren't many other special features to them. The Far Cry 2 area is a little more plain, just being an area to hang out that looks like locations from the actual Far Cry 2 game. In the second room, though, is interactive action points where you can view a full-scale map of the world of Far Cry 2, as well as dossiers of the characters from the game scattered about the room. Unfortunately, there isn't really much else to do within these areas, other than having a place with a varried atmosphere to sit and hang out.
Everyone who is in the world also is given an apartment, where they are able to decorate with furniture, or have a private location to invite their friends over to sit and chat. Your apartment is completely customizable with furniture and accessories that you have purchased, including couches, armchairs, tables, lights, and more. Many of the more notable features from demos at past events, though, are still missing from the lineup, although Sony has been quick to say that Home will be ever evolving, meaning we'll often see updates to it.
Clubs are another feature that Sony has tried to push on PlayStation® Home. Clubs are basically a group of people under the banner of a club name. Clubs can also have a clubhouse, in which they are able to post announcements to a cork board for other members to see, as well as it's customizable with furniture just like your personal apartment is. Different from the Closed Beta though, club leaders will now have to pay a one-time fee of $4.99 just to be able to receive a clubhouse for their club, and rumor has it that Sony will begin charging people a monthly upkeep for their club starting mid-2009. All of these things taken into account, clubs are not notably high peoples' priorities list. Another thing that isn't high on the list is Game Launching from within Home. Currently, only one game is confirmed to be able to launch from directly within Home itself; Warhawk. Sony has said that they will be adding support for most, if not all games in the future, including LittleBigPlanet, SOCOM: Confrontation, and more.
It's time for the opinion side of things now. While PlayStation® Home is a very cool and unique piece of software, right now the value of it compared to the rest of the PlayStation® Network, or even other virtual worlds, is still lackluster. With the only way to upgrade being to pay cash for it, it takes away from the experience and limits users as to what they are able to do with it. I've found this in many virtual worlds, but it's always the people who pay more from their pocket that are able to use that creative freedom to the fullest. If you don't like chatting with random strangers, or meeting new people who you just bump into, you're restricted as to what you're able to do within the world. The mini-games scattered throughout the world are a fun escape, but with little to no value to them, and a limited amount of replayablitity, as with the arcade machines, I can see how Home will become a fad that will wearing off quickly for people. I have my hopes for it; this is just the first days of it's release, so I expect to see many more updates to it coming soon even. But for right now, the launch has just left me wondering what they can do to get more of us interested in spending our spare time in it.
Verdict: Disappointed, but hopeful.